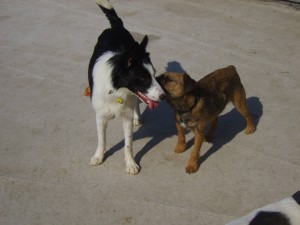 We've been offering dog kennelling facilities in the Redditch and surrounding Worcestershire area for over 10 years now.
During that time, we've picked up quite a lot of information about the best ways to prepare for dog kennelling, so here's a few points to consider when you're next looking for a kennels for your dog.
1. Do your research.
Make a shortlist of the kennels you'd like your dog to go to. This can be based on recommendations through word of mouth from other dog owners you know, or from your own online findings.  If you can, always visit the kennels prior to leaving your dog.  Here at Petcentralhotel, we're more than happy to show people around to see the kind of facilities we have available.
2. What's Important for your Dog?
Important considerations when you leave your pet anywhere are how they're going to be treated. How often are they exercised? Can the kennels take care of any special requirements such as medication or dietary needs? How many staff are on hand to look after your dog, and how often are the kennels cleaned.
3.  Book Early!
All things considered, all kennels will be busy during traditional holiday periods.  Don't leave it too late to book your dog into your favourite kennels.
4.  Vaccinations
It's always worth ensuring your dogs vaccinations are up to date.  Mixing with other dogs as they will it always pays to be careful.  Consider talking to your vet about your dog having the kennel cough vaccine too for complete peace of mind.
5. First Night Nerves
If your dog has never been to a kennels before, consider a trial run beforehand to make sure he's comfortable there.  We are more than happy to offer a day visit to make sure both you and your dog are happy with the arrangements for a longer term.
6. Worm and De-Flea!
Before you leave your dog with any boarding kennels make sure you worm him and give him a flea treatment.  This will reduce any opportunities for small irritations whilst he's on his holiday whilst you're away enjoying yours.
7.  Bedding
Most dog kennels will have bedding available, but it's always worth checking.  In addition to any bedding supplied, it's always a great idea to bring along a blanket or sheet with a familiar scent on it. This helps to reassure him and offer some comfort.
8.  Nice and Early
To help your dog settle into the kennels we always suggest to drop him off as early as possible. This gives your dog an opportunity to acclimatise himself to his new surroundings.  Leave quietly and quickly with as little fuss as you can, in order that you don't transfer your nerves or excitement to him.
9.  Collection
When it's time to collect him, try not to allow your dog to get too excited.  Of course, he'll be over-excited to see you, but if you can remain calm, it helps us with the other boarders.
10.  Re-adjustment
After a stay in the kennels, it sometimes takes a dog a couple of days to re-adjust to being home and back around you.  Simply easing him into his normal routine will help, but be aware that unexplained behaviour does occasionally happen. It is nothing to worry about.
At Petcentralhotel, we pride ourselves on the customer service we offer to the boarders who come to stay with us – some of them time and time again.
If you are looking for dog kennelling and have any questions or concerns we are more than happy to offer any help or assistance, why not give us a call on 01527 892 164 or email us at info@petcentralhotel.co.uk